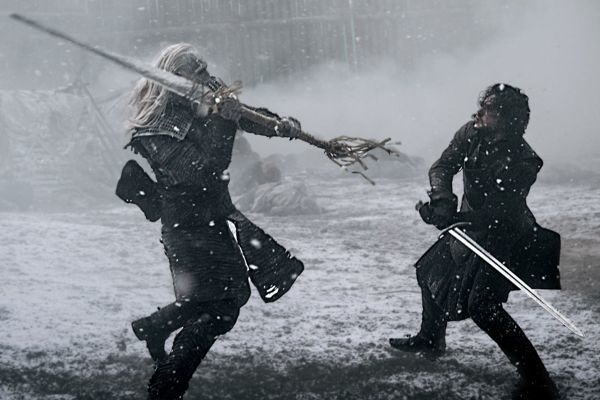 It's unclear who will direct which episodes for Season 8.
We know that giants are a big-ticket item, because back in Season 6, "Battle of the Bastards" director Miguel Sapochnik told Business Insider he had to make a budgetary choice for that episode: include Wun-Wun or Jon Snow's direwolf, Ghost.
A new report indicates that each of the show's final six episodes will cost $15 million, but where does that place Thrones on the overall list of the most expensive TV shows ever made?
It looks like the show's creators want to get their money's worth, though, with each episode in the eighth season rumoured to be as long as two hours apiece. Wagner and Sapochnik have proven they make a great duo behind the camera, so it's a good sign that season 8 of Game of Thrones will make sure they get to work together one last time.
Now those three teams represent all the directors for season 8.
'Star Trek: Discovery' Main Title Sequence Debuts Before Series Premiere!
The other show feels like a version of Star Trek created to cater to the immediate cultural moment in all the wrong ways. It moves fast and the story is gripping, and the visuals easily eclipse anything done by Star Trek on TV before.
But if you want even more of the world of Westeros, then make plans to attend the Game of Thrones Live Concert Experience on September 8, 2018, at the SAP Center in San Jose. And they're familiar names to those who peruse the show's credits. While a typical installment might require a week or two, the Battle of the Bastards, for example, took 25 days.
HBO is now in pre-production for the final season of Game of Thrones. Chief among the news is that D.B. Weiss and David Benioff themselves will put the show to rest.
While it could be a mammoth task for one man, we would certainly love to see him take the whole series. MacLaren has directed four episodes since Game of Thrones began in 2011, including "Oathkeeper" (season four) and "Second Sons" (season three).
With six episodes in the entire series, as a fan, we couldn't help but feel how it would benefit from one steady director for the final run, instead of the regular rotating directors after each episode.
The return of Sapochnik is significant because there will be many more massive battles in the six remaining episodes on the show.