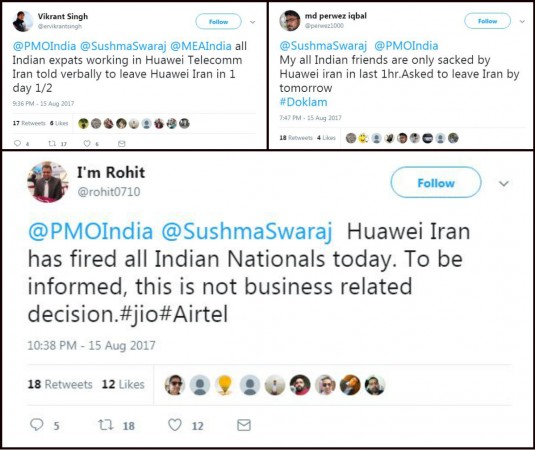 Days after Indian and Chinese troops got involved in a scuffle in Jammu and Kashmir's Ladakh, a video of the stone pelting surfaced Saturday, but army sources however said they can not confirm its authenticity.
Almost a week after a scuffle broke out between Indian and Chinese troops in eastern Ladakh, a video, purportedly shot on a mobile phone and put out by a retired military officer yesterday, showed how the soldiers from two countries kicked, punched and shoved each other.
Authorities have confirmed the authenticity of the video, reports the NDTV.
The narrow, serpentine 135-km long body of water, located 4,300 meters above sea level, is cut up by the 4,000 km Line of Actual Control (LAC) - the disputed border between the two powers.
External Affairs Ministry spokesperson Raveesh Kumar who confirmed on Saturday about the incident at Pangong Tso also added that there had been a discussion between the local army commanders following the incident.
"The Chinese side is committed to peace and tranquillity of the China-India border", she said. However, refused to say whether stones or rods were involved or not. Both sides sustained injuries.
Muguruza & Halep face off for the Cincinnati title
While she can't do it this week, Muguruza would be in the hunt for the top ranking at the US Open, which starts on August 28. Since beating Venus Williams for the Wimbledon title, she has reached the quarterfinals of her last three tournaments.
Security experts expressed serious concerns over the stone pelting as such incident never happened in Ladakh region, w here the two sides had been strictly adhering to the banner drills and other border-management mechanisms to defuse tension and resolve perceived incursions.
The clash between Indian and Chinese troops at Ladakh was caught on camera.
According to reports, General Rawat is on two-day visit to the region where he is scheduled to take part in a function which would be presided by President Kovind. He said some soldiers from both sides received minor injuries.
The pelting of stones took place when the two sides were retreating after a face-off at Finger Four and Finger Five near Pangong Lake on August 15.
All the officers spoke on condition of anonymity because of the sensitivity of the issue.