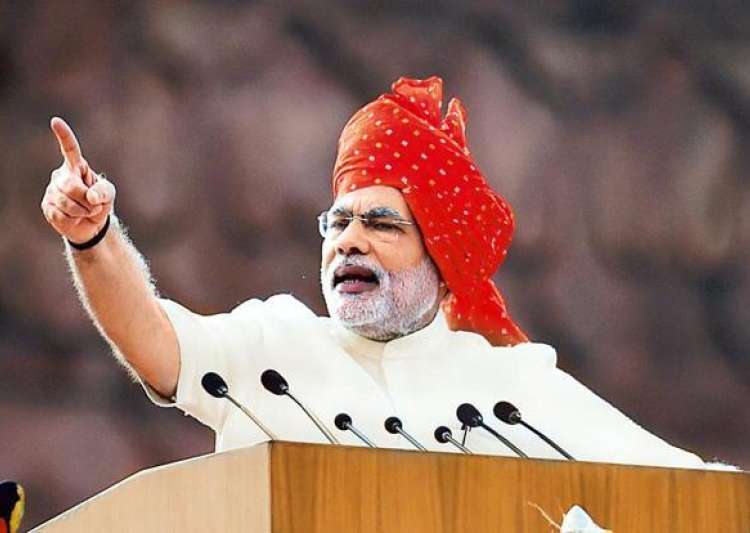 Toeing Atal Behari Vajpayee's Kashmir doctrine of "Kashmiriyat, Jamhooriyat aur Insaniyat", Prime Minister Narendra Modi from the ramparts of Red Fort on Tuesday held out some hope for the strife-ridden Kashmir Valley as he called for compassion and not coercion. Calling it as a celebration of both historical and cultural heritage, from Sudarshan Chakradhari Mohan to Chakradhari Mohan, Modi remembered the contribution made by men and women for freedom of India.
The prime minister's annual speech outlined his government's agenda in tackling the many problems faced by this country of 1.3 billion people.
During his hour-long address, the prime minister also declared that violence in the name of faith was not acceptable and termed casteism and communalism as "poison". He added that the nation stands with them in their struggle. "We have focussed on cooperative federalism and now competitive cooperative federalism", said Modi.
"It is clear that security of our country is our priority". 3 lakh companies have been found to be shell companies.
The chief minister said she welcomes the Prime Minister's statement and hopes Kashmir issue would be resolved amicably.
"In the coming five years, we have to take the country forward with the same collective strength, commitment and hard work", he said. Children died at a hospital, the entire nation is with them.
Vancouver named as potential host city for Federation Internationale de Football Association 2026 World Cup
Prepare to (potentially) get even more: The Queen City could score one of the soccer world's biggest events in the next decade. Lenarduzzi was managing the Vancouver 86ers of the Canadian Soccer League when the US was awarded the 1994 tournament in 1988.
India has been struggling to restore normalcy in Kashmir, deploying thousands more soldiers after massive protests and demonstrations following the death of Burhan Wani, a militant killed by the Indian army past year.
Stressing that a peaceful Jammu and Kashmir was a "worst thing" for Pakistan, Gandhi said what the UPA government did for ten years was "destroyed in one month by Modi".
- I bow to all those who have sacrificed for the independence of the nation.
"We have heard his stance on demonetisation and GST, but what had to be addressed is how his subordinates are trying to sweep the Gorakhpur tragedy under the carpet", said Mr. Verma.
"Did anyone hear the Prime Minister say that the Chinese forces are sitting inside Bhutan?". We have to leave this "Chalta Hai" attitude.